Molding
Molding Machines
There are 3 horizontal injection molding machines on our molding floor for the mold qualification purpose. The size of our machines range from 100 tons to 280 tons (metric tons). The smallest machine, the 100 tons machine, is an all electric machine, which is focused on running high precision parts. The two larger machines are 150 tons and 280 tons close-loop hydraulic machines, which are more capable of running molds with sophisticated mechanical actions. With the signal feedback back, all the 3 machines are capable of running Scientific Molding testing and processing rigorous mold qualification procedures. We can develop Decoupled Molding℠ II½ process on them without any problem.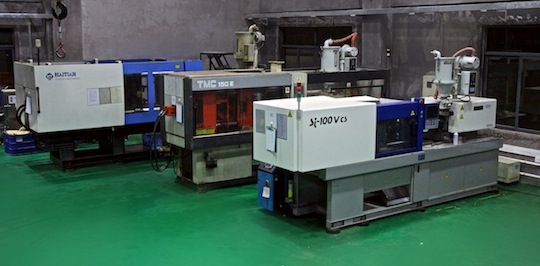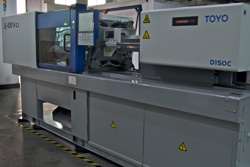 All electric TOYO machine
The latest machine arriving our molding floor is a 100 ton all electric Toyo. It is the 2012 model from Toyo. The machine is equipped with a 62g barrel, can shoot at a maximum speed of 300 mm/s and pressure of 235MPa. This machine is excellent in running small and precise parts.
We have 3 molding machines to sample our tools. Our highly customized Haitian hydraulic injection molding machine, servo-motor driven, with close-loop is a great machine to samples our larger molds.
Besides the molding machine, we have various peripheral equipment to support our mold sampling.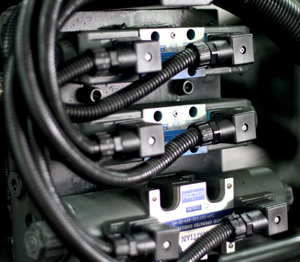 Multiple core pull circuits powering complicated mold open and action sequences.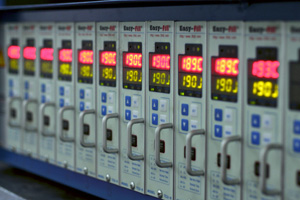 Multi zones hot manifold controllers support hot runner systems with many zones.
e-Dart system and transducers
To preform reliable mold validations, we have introduced the RJG's Scientific Molding approach. We have installed the RJG e-DART system and the transducers on our machines so that we can collect all the signals and parameters into the e-DART system, for process monitoring and analysis.