CNC
Cosmos has 2 high speed CNC machines in house. In addition to making copper electrodes and rough cutting steel, the high speed cutting capability of these machines enable us to hard cut core steel after heat-treatment, which can considerably cut down processing time on EDM, without sacrificing the quality. Unlike many of mold makers in China, Cosmos utilizes CNC machines over 50% of machine time in hard milling.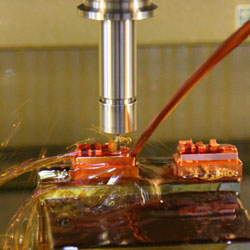 High precision electrode CNC milling.
Precise and high speed hard milling on heat-treated steel.